---
Practical Tools for Self Knowledge and Interpersonal/Intrapersonal Skills
The Conscious Dimensions educational component creates teacher/staff training and student curriculum programs utilizing unique, patented, soft technologies to foster understanding in the areas of mental, emotional, and physical (multiple) intelligences, nurturing conscious awareness.

---

F.A.C.E. (FURTHERING AWARENESS of CHARACTER and ESSENCE): Self-Awareness and Understanding Others
Conscious Dimensions highlights various and complex inner workings of the human psyche and human condition including intelligence centers (head thinking intelligence, heart emotional intelligences, and body instinctual intelligence.) We address core motivations derived from fear, anger or neediness, and the virtuous qualities that derived from our pure essence selves, such as love, humility, courage, and compassion. With these features clearly marked, students can begin to perceive varied points-of-view and learn multiple perceptions. This insight begins on a personal level, and spreads its way outward in the understanding of how others view themselves and the world around them. This transformative process and journey can potentially neutralize many of the issues listed below. For example, learners who gravitate toward heart emotional intelligences, often struggle with poor self-esteem. This can be greatly reduced when learners realize why they are pleasing others and sacrificing themselves rooted in a belief that they are not loved. Another example, is learners who gravitate toward head intelligences are often fear-based. Fear is reduced when mental processes for anticipating danger is better understood and can be calmed when real threat and danger are truly evaluated.
Learn more...
---
---

F.A.C.E.T. (FURTHERING AWARENESS AND CONSCIOUSNESS EXPERIENCING TRANSFORMATION) Value systems
Conscious Dimensions provides a map for learners to see the evolution of character influenced by cultural, societal, and environmental factors. Values are formed as we learn how to be in our unique environments, which are affected by economic status, political, religious, educational, and cultural influences. Conscious Dimensions introduces a broad range of varying environments and value systems to allow learners to gain multi-dimensional views of the world, again creating more opportunities for understanding self and others, fostering compassion.
Learn more...
---
---
L.E.G.S. (LIFE EVOLVING GUIDANCE SYSTEM) Problem Solving
It is usually through life challenges that we are willing to face change. Humans handle problems in one of three ways. They will either make life-altering, and often difficult choices to wake up and shift their way of seeing themselves in the world, evolving forward or fixate, going in perpetual circles, repeating the same patterns of behavior, or digress backward into unhealthy and self-depricating, and often destructive patterns. Conscious Dimensions presents real-life scenarios and choices that bring characters to pivotal places of change in their evolutions. These metaphorical and symbolic archetypal narratives provide rich substance, which students and teachers can clearly see personalities in conscious process and discuss the kinds of choices a personality might make, given a variety of situations and environmental factors.
Learn more...
---
---
Educational Focus

Conscious Dimensions features multi-dimensional stories that can be applied in cross-disciplinary approaches in education. We endeavor to place these powerful tools in the hands of teacher/trainers to equip them with various concepts and strategies to

discuss pertinent, and sometimes, complex and controversial subjects, such as the following:

Bullying
Self-esteem
Depression
Anger
Conflict
Lying and deception
Addiction and addictive behavior
Fear and anxiety
Stress
Introversion, anti-social awkwardness

---

---
Practical implementation
With our multidimensional program, the range and scope of application is literally limitless. Learners can explore our programs and glean knowledge in the following subjects :
English (Writing and story development/narrative)
Social Studies (Social Justice)
Psychology (Personality and mental health, emotional intelligence)
Environmental studies (earth science and climate changes)
Anthropology (cultural differences)
Science (animal behavior)
Health (Body functions, and health practices)
Math (Law of 3, 7 and 1)
Our enriched learning is all-encompassing and crisscrosses the range of important life skills that empower learners for the real world.
How and for whom?
After school enrichment programs offer parents and teachers opportunities to reinforce a variety of subjects for children. Learning in a fun, adventuresome environment removes the rigidity of classroom tension and fosters learning through play, inquiry, and exploration. Teachers are supported by parents' involvement in enrollment, allowing teachers the freedom for exploration without infringing upon parental preferences for their child's education. The CDIM team endeavors to accommodate questions and challenges with our extensive expertise and experience in our patented technologies.
---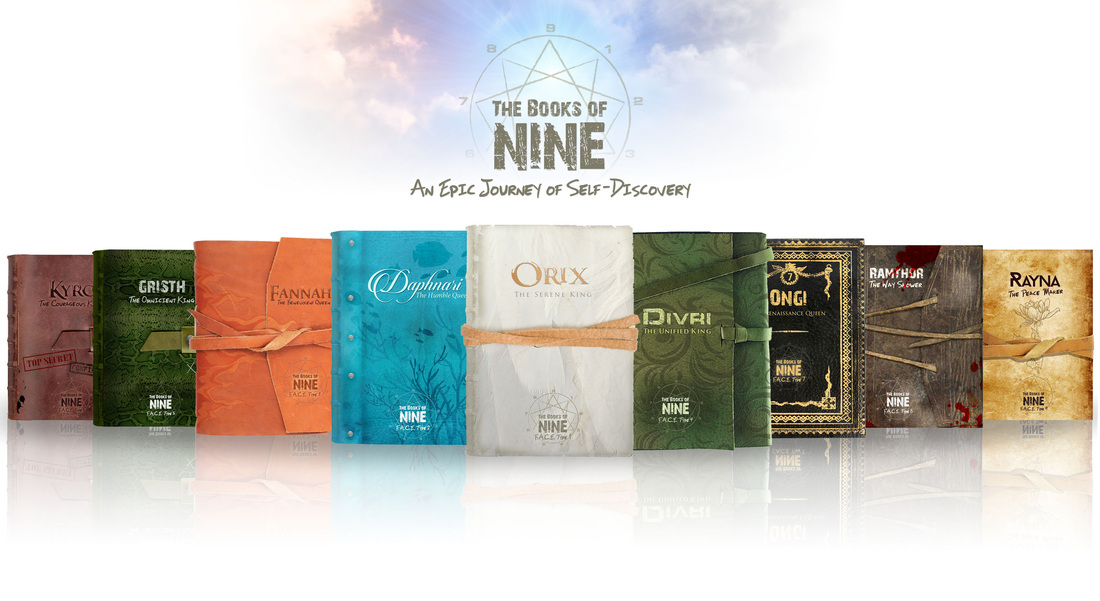 A Revolutionary Tool For Educators
The Books of Nine are epic tales of fantasy, intrigue, and adventure, woven together to produce a delightful literary collection that can be read in any order. The numbers represent nine very different human points of view and internal landscapes which mirror human personality that N-One Games calls F.A.C.E. (furthering awareness of character and essence). Follow the lives the nine planetary rulers, each on a mission to survive catastrophic, global disruptions caused by the Rogue Planet and the eclipse. Magic portals allow access for each ruler to travel to other worlds, encountering entirely new species and meeting new rulers, each having his own very different worldview. Encountering each other challenges them, making them inadvertently positioned for awakening and self-discovery.

Discover how you relate to each character. Learn how to look at the human condition with more compassion and understanding. Enjoy the visual and metaphoric avatars in a one-of-a-kind literary genre that is provocative, fun, and will have you asking yourself the question: Who am I? To which point of view do you most relate? Collect all nine books and embark on nine epic journeys of self-discovery!!!

The Books of Nine, Education Edition will be presented in digital format. These books are packed with educational nuggets of wisdom and, lavishly illustrated, in full-color with over 100 stunning illustrations, making this deluxe format a perfect teaching tool packaged in an epic adventure!

Meet Orix, the F.A.C.E. 1 ruler of Paragonia, whose brother devises every possible scenario to depose him. The hard-working and responsible Orix experiences the occurrence of the Rogue Planet and the ensuing drought as a challenge to find water, taking him on long trips away from his home. As a bird with eagle eyes, Orix sees everything and struggles, internally judging and self-correcting, believing his way is the "one right way." He strives for perfection, and when it eludes him, he becomes angry and resentful.

Join Orix on his many and wondrous journeys throughout the N-1 Galaxy, spreading his own kind of justice and morality. Stick with him as he searches for precious water and battles to keep his throne intact, while his brother leaves no stone unturned to dethrone him. Follow Orix as he learns acceptance, for himself and then for others, discovering, as well, the true meaning of perfection and serenity.