The First of its Kind!
A Fantasy Self-Help Series Like None Other
The Books of Nine are epic tales of fantasy, intrigue, and adventure, woven together to produce a delightful literary collection that can be read in any order. Follow the lives the nine planetary rulers, each on a mission to survive catastrophic, global disruptions caused by the Rogue Planet and the eclipse. Magic portals allow access for each ruler to travel to other worlds, encountering entirely new species and meeting new rulers, each having his own very different worldview.

---
Pre-Order Special
Collect all nine books and embark on nine epic journeys of self-discovery!!!

For the first time, N-1 Games, The Books of Nine, will be presented in digital and hardback formats with lavishly illustrated, full-color editions with over 100 stunning illustrations.

Pre-OrderSpecial. The regular price for these books are set at $59.99. But for a limited time in our pre-order offer you can get these beautifully illustrated books for only $39.99. What a deal! Collect them all!

---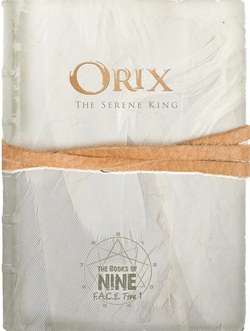 Meet Orix, the F.A.C.E. 1
ruler of Paragonia, whose brother devises every possible scenario to depose him. The hard-working and responsible Orix experiences the occurrence of the Rogue Planet and the ensuing drought as a challenge to find water, taking him on long trips away from his home. As a bird with eagle eyes, Orix sees everything and struggles, internally judging and self-correcting, believing his way is the "one right way." He strives for perfection, and when it eludes him, he becomes angry and resentful.
Join Orix on his many and wondrous journeys throughout the N-1 Galaxy, spreading his own kind of justice and morality. Stick with him as he searches for precious water and battles to keep his throne intact, while his brother leaves no stone unturned to dethrone him. Follow Orix as he learns acceptance, for himself and then for others, discovering, as well, the true meaning of perfection and serenity.
PREVIEW CHAPTER 1 OF 7
Length: 180 Pages
---
Digital Version

Limited Time Pre-Launch Price: $39.99 Listed Price: $59.99- savings of $20.00


---